Cardiff Childcare Business Support
Childcare Business Support Services are available to new and existing childcare providers in Cardiff – we work with schools, playgroups, day nurseries, after school and holiday clubs, cylchoedd meithrin, crèches and childminders.
We aim to support existing provision and improve the quality of childcare provided. Services can include assistance with policies and procedures, Care Inspectorate for Wales applications, marketing, staff recruitment, income generation, sustainability and grant-funding applications.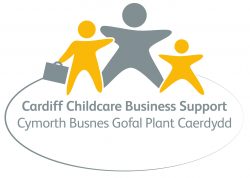 Unlocking Childcare Provision in Cardiff
This document is a guidance tool to support settings with the re-opening of childcare for non-keyworkers across Cardiff Council. The document pulls together current Welsh Government Guidance as well as information from Umbrella Organisations and Flying Start.
Test Trace Protect Leaflet
Welsh Government have developed a summary leaflet for childcare settings on the Test Trace Protect process. It provides the answers to some key questions on the process.
Capital Grant
The deadline for final applications for the Small childcare capital grant is the 17th of September.  All funding agreed will need to be spent by the 28th of February 2022. To meet this requirement, this round of the grant will be focused on equipment.
Settings can apply for capital items, to improve quality and/or increase places for children accessing the Childcare offer, please see the application for further information.  The grant applications will be decided by a panel of umbrella organisation representatives at a date to be confirmed.
Childcare Offer Capital Grant Application Form
Childcare Business Support Grant – Grant Application Costings 2021/22