Cardiff Childcare Business Support
Childcare Business Support Services are available to new and existing childcare providers in Cardiff – we work with schools, playgroups, day nurseries, after school and holiday clubs, cylchoedd meithrin, crèches and childminders.
We aim to support existing provision and improve the quality of childcare provided. Services can include assistance with policies and procedures, Care Inspectorate for Wales applications, marketing, staff recruitment, income generation, sustainability and grant-funding applications.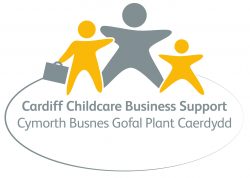 Welsh Government:
Rates relief extended for childcare providers until 2025
Registered child care premises in Wales will benefit from 100% non-domestic rates relief for an additional three years.
The extension of the rates relief, until 31 March 2025, will provide £9.7m of additional support for registered childcare premises.
The Small Business Rates Relief scheme was enhanced in April 2019 to provide 100% relief to all registered childcare premises in Wales for a three-year period. Designed to help the sector deliver the child care offer of 30 hours of early education and childcare. Rates relief extended for childcare providers until 2025 | GOV.WALES
Unlocking Childcare Provision in Cardiff
This document is a guidance tool to support settings with the re-opening of childcare for non-keyworkers across Cardiff Council. The document pulls together current Welsh Government Guidance as well as information from Umbrella Organisations and Flying Start.
Test Trace Protect Leaflet
Welsh Government have developed a summary leaflet for childcare settings on the Test Trace Protect process. It provides the answers to some key questions on the process.
Childcare Business Support Grant
Assistance through the Childcare Business Support grant can be provided for costs associated with enhancing the quality of provision, particularly when it addresses CIW requirements or matters raised in Inspection Reports (please submit last CIW Report with your application) to make them suitable for childcare on a continuing basis.
For the financial year 2021-22 and in light of the ongoing circumstances, settings can apply for assistance which would allow the provision to operate in line with guidance issued by the Welsh Government (WG), including  Protective measures in childcare settings: keep childcare safe | GOV.WALES, Care Inspectorate Wales (CIW) and other relevant organisations
These measure may include portable wash hand stations and associated equipment; room dividers; meeting Food Standard Agency Guidelines; IT for communicating with parent; and for items not eligible for funding under the Childcare Offer Capital Small Grants Scheme.
Cardiff Council Childcare Business Support Grant Terms & Conditions 2021-22
Childcare Business Support Grant Application Form (2021-22)
Childcare Business Support Grant Application Guidelines 2021/22
Childcare Business Support Grant – Grant Application Costings 2021/22
Childcare Provider (Utilities) Grant & Self-Isolation Grant A
Cardiff Council's Childcare Business Support Team have received additional funding from the Welsh Government to support Childcare Providers. The additional funding will be used to provide new grant schemes.
The first will allow settings to claim for a contribution towards their utilities costs for the financial year 2021/22, with up to £1,500 available for childminders: up to £5,000 for smaller childcare settings, and a maximum of £7,500 for settings registered for 20 or more places.
We will also be re-introducing Childcare Support, Self-Isolation Grant for providers who have been advised by Public Health Wales/Environmental Health not to continue operating during their families or staff members period of Self-Isolation.
Due to the high volume of applications received for the Childcare Support (Utilities) Grant the closing date has been amended to 31/12/21. If there are any residual funding after this date the grant will be re-opened in the New Year.
Childcare Support (Utilities) Grant Application Form April 2021 – March 2022
Terms and Conditions Childcare Support (Utilities) Grant A & B
Childcare Support Grant, Grant A (April 2021-March 2022)
Template letter to parents using settings benefitting from the Childcare Support Grant, Grant A
CO2 Grant
Grant funding can be awarded to reimburse registered childcare settings for the cost of CO2 monitors.
The maximum amount a setting can request, for the re-imbursement of CO2 monitors, is £150 per unit, settings are required to use the guidance provided within the application to calculate the number of monitors needed and which monitors are appropriate based on room sizes and number of children.