Cardiff Childcare Business Support
Childcare Business Support Services are available to new and existing childcare providers in Cardiff – we work with schools, playgroups, day nurseries, after school and holiday clubs, cylchoedd meithrin, crèches and childminders.
We aim to support existing provision and improve the quality of childcare provided. Services can include assistance with policies and procedures, Care Inspectorate for Wales applications, marketing, staff recruitment, income generation, sustainability and grant-funding applications.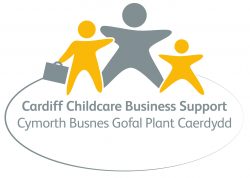 Welsh Government:
Rates relief extended for childcare providers until 2025
Registered child care premises in Wales will benefit from 100% non-domestic rates relief for an additional three years.
The extension of the rates relief, until 31 March 2025, will provide £9.7m of additional support for registered childcare premises.
The Small Business Rates Relief scheme was enhanced in April 2019 to provide 100% relief to all registered childcare premises in Wales for a three-year period. Designed to help the sector deliver the child care offer of 30 hours of early education and childcare. Rates relief extended for childcare providers until 2025 | GOV.WALES
Unlocking Childcare Provision in Cardiff
This document is a guidance tool to support settings with the re-opening of childcare for non-keyworkers across Cardiff Council. The document pulls together current Welsh Government Guidance as well as information from Umbrella Organisations and Flying Start.
Test Trace Protect Leaflet
Welsh Government have developed a summary leaflet for childcare settings on the Test Trace Protect process. It provides the answers to some key questions on the process.