Cardiff Childcare Business Support
Childcare Business Support Services are available to new and existing childcare providers in Cardiff – we work with schools, playgroups, day nurseries, after school and holiday clubs, cylchoedd meithrin, crèches and childminders.
We aim to support existing provision and improve the quality of childcare provided. Services can include assistance with policies and procedures, Care Inspectorate for Wales applications, marketing, staff recruitment, income generation, sustainability and grant-funding applications.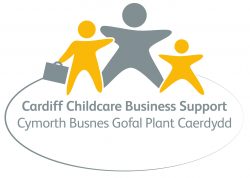 The Cardiff Childcare Business Support team have collated this presentation to support you through the journey of the new curriculum in Wales, this presentation highlights resources available with easy links to follow.
Rates relief extended for childcare providers until 2025
Registered child care premises in Wales will benefit from 100% non-domestic rates relief for an additional three years.
The extension of the rates relief, until 31 March 2025, will provide £9.7m of additional support for registered childcare premises.
The Small Business Rates Relief scheme was enhanced in April 2019 to provide 100% relief to all registered childcare premises in Wales for a three-year period. Designed to help the sector deliver the child care offer of 30 hours of early education and childcare. Rates relief extended for childcare providers until 2025 | GOV.WALES
Childcare Capital Grant
The application process for Childcare Capital Grant funding has now closed, in order to enquire about this funding please get in touch with ChildcareBusinessSupport@Cardiff.gov.uk
All grant applications must be accompanied by a grant funding costing sheet which can he accessed here Grant Funding Costing Sheet.
Changes to National Minimum Standards – 18th May 2023 Key Changes
New dates announced for We Care Wales Introduction to childcare courses in September and October 2023, more information can be found here.
Cardiff Childcare Business Support Privacy Notice
Cardiff Childcare Business Support are part of Cardiff Council who is the Data Controller for the purposes of the data collected. This privacy policy will explain how our organisation uses the personal data we collect from you when you use our website or service.