The Index for Children and Young People with Disabilities or Additional Needs
The Index is Cardiff's voluntary register for children and young people with disabilities or additional needs. Working alongside a range of support services and professionals, it ensures that families of children and young people with disabilities or additional needs are kept up to date with information that is both relevant and beneficial to them. In addition, it assists the planning and co-ordination of services supporting those children, young people and their families.
You can sign up to The Index if you are:
A parent / carer of a child or young person aged 0 – 25 years with disabilities or additional needs resident in Cardiff
A professional working with children and young people 0 – 25 years with disabilities or additional needs
To be included on The Index the child or young person must:
be aged up to 25 years
have a diagnosed disability, be in the process of diagnosis or have confirmed ongoing additional needs
Once signed up to The Index you will receive the Index e-news – regular emails providing information about services, activities and events.
How to sign up to The Index?
Transition: Beginning to Plan for My Future
When you are 14 you have to start thinking about your future and what you would like to do when you leave school. You might want to go to college, do some training or get a job. You may need support to continue to learn to do things for yourself when out and about in the community or you may need to be supported in a place where for example you are helped with your physical care.
Sometimes, making choices might be hard but it can also be an exciting time, and there are lots of other people as well as people in school who can help you.
For example:
A Careers Advisor will be able to give you lots of ideas and choices that are available in your area when you leave school;
College staff can also let you know what courses they have if you would like to go to college. They can also arrange visits for you to see what it's like;
You might also have support from someone who can talk about what you do in your spare time and help with new things to do as you grow older.
Here's some of the things (Options) you might want to do in the future:
Stay in School after you are 16
Apply for jobs
Sign up with a supported employment agency (your school can tell you about these)
Go to college
Join a training programme
Attend a Day Service
Receive support in the community
Get some work experience or voluntary work to help you to get a paid job you would like to do in the future
Prepare to live away from home
Planning for your future will start in year 9 which is long before you leave school. If you have a Statement of SEN, the diagram below will show you what should happen to help you plan ahead.
The video (Planning for Your Future: Transition Plans Video) can also be found here
Planning for your future starts when you are in year 9 which is the year you turn 14 years old. This is called Transition Planning and it is a time when people get together to help you plan:
How you want to be supported as you grow up; and
What you want to do when you are older.
To support you to meet your goals for the future, schools across Cardiff and the Vale will shortly begin using 'My Plan for my Future' at your annual review meeting of your Statement of SEN (if you have one) or other learning plan that you have which needs to be reviewed every year.  They will use this from year 9 to help you to start to make your plan for your future, and will check it every year to make sure it is working for you up until you leave school.
Your plan for your future will be used by all the people who support you, like School, College, Family, Hospital and health services and Social services.
Your plan will be made in a way which is easy for you to understand and will say:
Who you are
What Information people need to know to support you (This is sometimes called your One Page Profile)
Your wishes and feelings about what you would like to do when you grow up
How you are going to be supported to help you meet your goals as you grow up
Who needs to support you
What people need to do to support you as you grow up
Who your transition key worker is (this will be someone who will make sure your plan runs smoothly and help if there are any problems with it, they can also help you to plan for your transition planning meetings).
What you think about your plan
When your plan needs to be checked to see if it is helping you and if it needs to be changed
Who you would like to share your plan with.
Look out for information in upcoming issues of the index about help you and your family can get to make sure your voice is heard when planning for your future.
If you are in your last year of schools and have additional learning needs (ALN) and have a Statement of Educational Need (SEN) or an Individual Development Plan (IDP) our dedicated transition team can help you move from school into college.
We understand that moving from school to college is an important time and that you may be anxious or nervous about moving on from school. We can provide support throughout the year and during the summer holidays to help you on your journey to college.
Our friendly team can:
Offer advice and guidance on course choices in the college
Attend your Annual Reviews to provide advice and guidance
Help you make applications and support you through the admissions process
Offer bespoke tours and Keep in Touch Days at our campuses throughout the year
Have a named contact who will be available to support you on your college journey
Work with schools, parents, Career Wales to help share information and help to support you.
Help produce or update a One Page Profile and an Individual Development Plan (IDP)
Signpost you to advice on financial support and student services
Help develop your personalised transition.
We want you to feel supported, safe and happy at Cardiff and Vale College to enable you to progress in all aspects of life and/or work.
Our Transition Officers are Lucy Moore, Paula Lawrence and Helen Williams.
Lucy Moore (lcurtis@cavc.ac.uk) – Lucy can help you if you are interested in studying a course that is Level 1 – Level 3, such as A levels or a vocational course.
Helen Williams (hwilliams@cavc.ac.uk) – Helen can help you if you are interested in a course that is pre-entry and designed for learners with complex and profound needs.
Paula Lawrence (plawrence@cavc.ac.uk) – Paula can help you if you need extra support to deciding what you would like to do at college with one of our Vocational Access courses.
What's Next? Your Life. Your Future.
A website for young people hosting provision and opportunities available in Cardiff.
Are you a parent or carer of a young person aged 16-24?
Using 'What's Next?', you can help them to explore their options into work and feel more confident about their future. The 'What's Next?' platform lists an exciting range of opportunities, to help young people access rewarding careers:
Further and Higher Education
Apprenticeships
Traineeships
Volunteering
To find out more, visit www.cardiff.gov.uk/whatsnext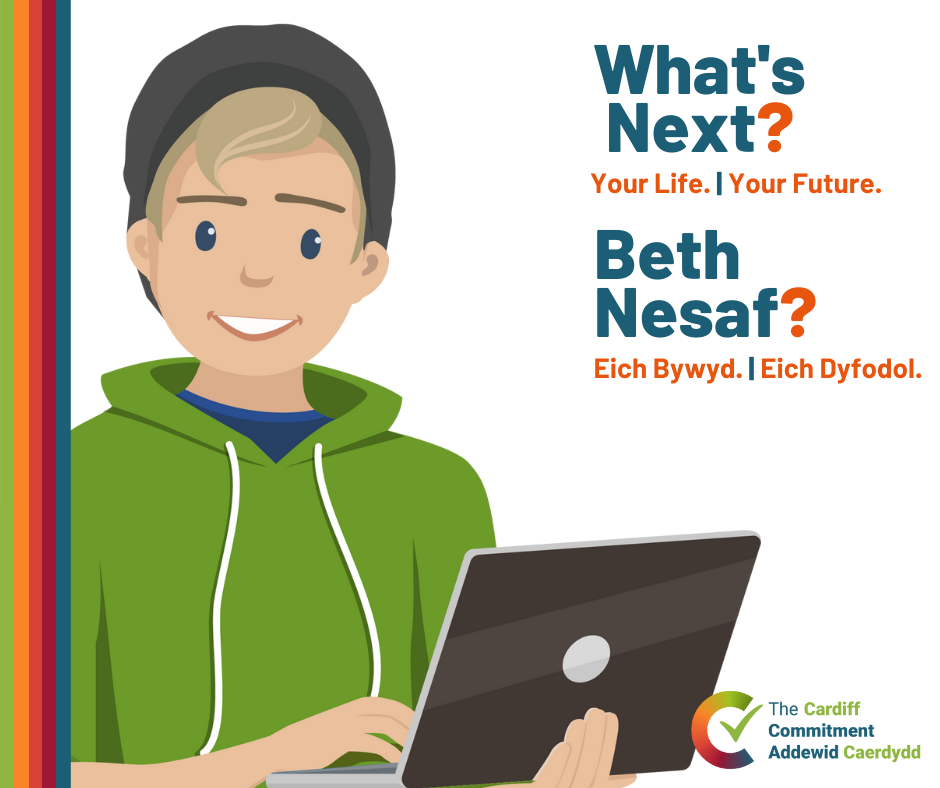 Contact Us
For information on services and support, please contact:
Cardiff Family Advice and Support
PO Box 1139
Cardiff
CF11 1WS
Tel: 03000 133 133
E-mail: ContactFAS@cardiff.gov.uk