The Workforce Development and Accredited Centre provides a range of training courses for all childcare staff in Cardiff.
This is the team to contact if………..
You are thinking of becoming a childcare provider.
You are an existing childcare provider and would like to find out what training is available and when
You would like to highlight what your training needs are (via the Training Needs Analysis)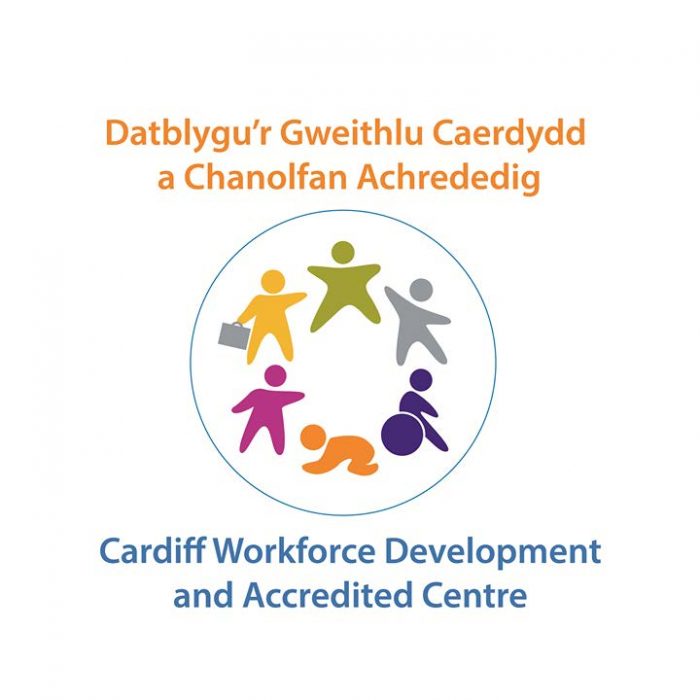 Cardiff Workforce Development Training Planner September 2023 – December 2023
With the closure of our website, we will be continuing to take bookings on our courses via a combination of email and telephone methods.
For inbound payments please call 029 2087 1935. For all other enquiries please email us at www.workforcedevelopment@cardiff.gov.uk
We would strongly advise that if you want to make multiple bookings you email us first to provide the staff names, email addresses and the courses you wish to book staff on to so we can check if we have availability and add users to our booking sheets, which will help to reduce the call times. Please also include a number we can call you back on. Once we have this information, we can then arrange to call you back to confirm the bookings and take payment.
We are using a telephone payments system which is used across Cardiff Council which is secure and meets Payment Card Industry (PCI) standards. You will not need to disclose your card number to us when making payment, it is all managed discretely using your telephone keypad. Receipts are provided at point of purchase via email delivery.
Continuous Professional Development
Welsh in the Childcare Setting
There is help available for childcare settings to improve Welsh language skills of their workforce through the Welsh Government funded programme 'Cymraeg Gwaith/Work Welsh'. The programme includes five strands, one of which relates specifically to the Early Years sector: 'Cymraeg Cynnar/Early Welsh'.
For further information, contact 0300 323 4324 or office@learnwelsh.cymru or go to http://learnwelsh.cymru/cymraeg-gwaith-work-welsh
Synopsis
This will demonstrate how to register your interest onto the portal, inform you of the free Cwlwm resources to support your learning and help you embed the Welsh language into everyday practice. The course aims to provide:
• Approximately 20 hours of independent learning;
• Support to learn Welsh to use with children in settings;
• Units to teach pronouncing the alphabet, colours, days of the week and numbering;
• Learn commands and introduce prepositions.
| | | | | |
| --- | --- | --- | --- | --- |
| Course | Date | Time | Location | Cost |
| Camau Introduction to Welsh Language Support and training for the Early Years | Tuesday 20th February 2024 | 6.00pm-7.15pm | Online Training | FREE |
Early Years Wales Training
Synopsis
The Active Baby and You is aimed at professionals working with the youngest of our children. It focuses on the movement and well-being of children from 0 – 18 months looking at development and ways in which we can support and nurture not only the babies in our care, but also the physical activity and well-being of the adults who care for and educate them.
The Active Toddler course follows on from 18 months to 3 years and provides practitioners with opportunities to provide the toddlers in their care with whole body experiences and an environment that promotes open-ended spontaneous movement play geared to the movement needs of the individual child.
| | | | | |
| --- | --- | --- | --- | --- |
| Course | Date | Time | Location | Cost |
| Active Baby and Toddler | Saturday 24th February 2024 | 9.30am-2.00pm | Ely & Caraeu Hub | £0 |
Synopsis
Active child is all about the development of movement, learningreadiness and play – movement is an integral part of life from themoment of conception until death, and a child's experience ofmovement will play a pivotal part in shaping their personality, feelingsand achievements. This three-hour course is aimed at children following on from the first3 years, supporting children and providing practitioners with theknowledge, skills, and attitudes to support children to be 'fully physical'(Greenland, 2009) in the curriculum for Wales.
| | | | | |
| --- | --- | --- | --- | --- |
| Course | Date | Time | Location | Cost |
| Active Child | Saturday 2nd March 2024 | 9.30am-1.00pm | Ely & Caraeu Hub | £0 |
Childcare Business Support Training
Synopsis
The aim of the training is to look at the inspections framework, inspection guidance and understand how childcare services can enhance quality to meet CIW compliance requirements.
| | | | | |
| --- | --- | --- | --- | --- |
| Course | Date | Time | Location | Cost |
| CIW Compliance Workshop | Wednesday 13th March 2024 | 10.00am-1.00pm | The Conference Centre    The Brecon Suite | £0 |
Synopsis
These two 90 minute training sessions aim to support leaders and managers to support staff teams' in their anti racist journey in creating an anti racist approach to best practice in the Early Years .
On completion of the two webinars leaders/ managers will be provided with the tools and resources to:
• To Understand the positive impact for Anti Racist practice for all children in the Early Years
• To begin to understand why anti racist practice needs to be embedded in the early years
• To begin the journey towards becoming anti-racist settings and practitioners
| | | | | |
| --- | --- | --- | --- | --- |
| Course | Date | Time | Location | Cost |
| Anti-racist practice | Thursday 22nd & Thursday 29th February 2024 | 6.30pm-8.00pm | Online Training | £0 |
Synopsis
This Community Food and Nutrition Skills course is delivered throughout Wales as part of Nutrition Skills for Life TM. It aims to provide those working with families, children or young people with up-to-date and accurate information on food and nutrition. Delivered in a practical way, participants will develop the skills, knowledge and confidence to talk to families and groups about food and support them to eat well. The Nutrition update session is for those who have completed the full 6 week Community Food and Nutrition course and within the past 18months.
| | | | | |
| --- | --- | --- | --- | --- |
| Course | Date | Time | Location | Cost |
| Community Food and Nutrition | Wednesday 17th, 24th,31st January & 7th, 21st, 28th February 2024 | 6.30pm-8.30pm | St. David's Hospital | £0 |
| Early Years Nutrition Update Session | Wednesday 13th March 2024 | 6.30pm-8.30pm | Online training | £0 |